Delete Duplicate Songs
SongKong can identify and remove duplicate songs in your music collection, tidying up your song library and freeing up space on your computer or device.
It can find duplicates tracks in a variety of ways, including how they sound and it lets you decide what to do with the duplicate songs once they are found. You can opt to prioritise particular file formats or select the earliest version found.
It then use a list of configurable preferred criteria to decide what duplicate file to keep
SongKong lets you to delete duplicates immediately, or move them for review - giving you complete control.
What is a Duplicate?
Whether you are interested in creating a jukebox of songs or preserving the integrity of albums the different options will help you. You may wish to keep multiple versions of the same album, or only keep one version. Or restrict duplicate searching to one format because you have a lossy copy of your lossless collection.
For example when Yesterday And Today by The Beatles, was released in 1966, the stereo album had three tracks that were duophonic mixes: I'm Only Sleeping, Doctor Robert and And Your Bird Can Sing. In 1971, a new pressing came out that replaced those three tracks with true stereo versions.
In this example if the delete duplicate criteria are set to Same MusicBrainz song and same album (specific version) both the original and improved versions of the songs would be kept because they are on different releases of the same album. Whereas if it was set to Same MusicBrainz song and same album (any version) then only one album would be kept.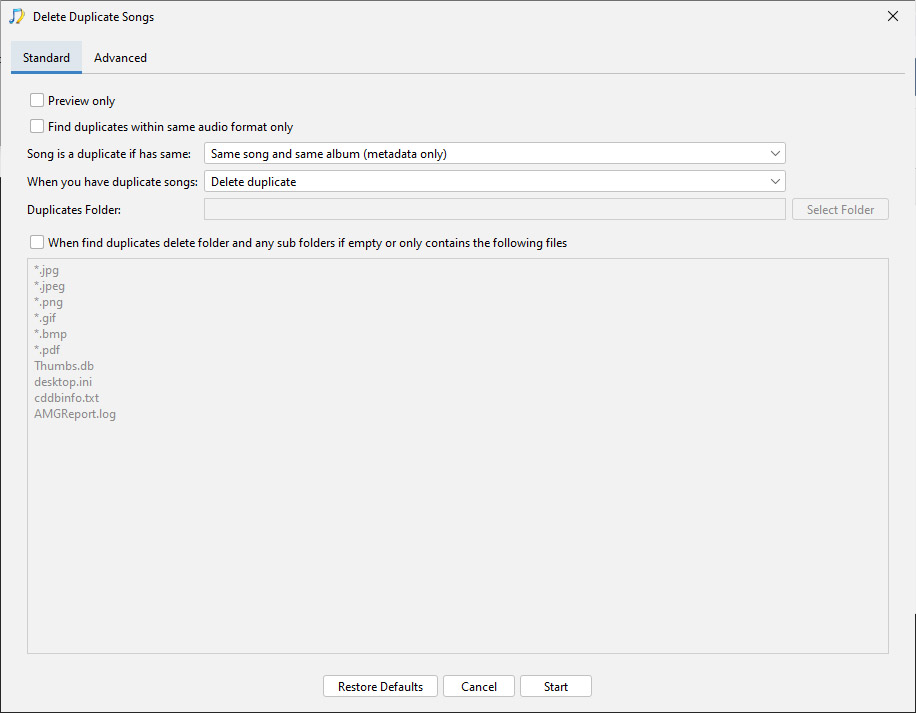 What to Delete?
The Preferred Deletion Criteria is used to control exactly how SongKong decides what songs to delete and what to keep when it finds duplicates. The criteria are compared in order and when a difference is found the song best matching the criteria is kept
Criteria include Audio Format, Bit Depth, Album with Most Tracks and File Creation Date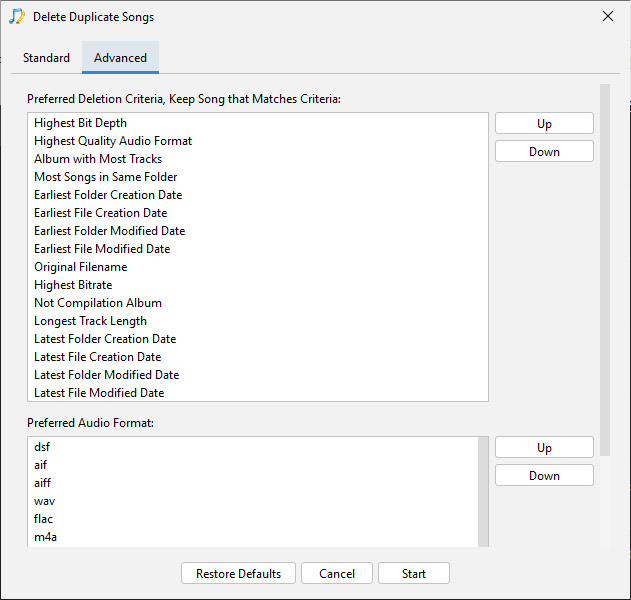 Going, Going, Gone?
What happens to the duplicate music files once SongKong has found them?
By creating a Duplicates folder you build in a safeguard that permits you to keep your duplicate files for review before final deletion or alternatively to restore them to your music collection if you change your mind or wish to adjust your criteria for identifying duplicates.
Alternatively you can delete the songs immediately, SongKong makes use of the Recycle Bin available on Windows and MacOS so that even if you delete your files in SongKong they can be restored using the System Recycle bin.
You can also configure SongKong to delete any folders that are now empty, and you can also configure any files to ignore.