News
SongKong 6.7.3 released on 17th December 2019
Bug
[SONGKONG-1944] - Edit Songs: Adding Error:Problem with Save:null
SongKong 6.7.2 released on 15th December 2019
Bug
[SONGKONG-1942] - Clicking on Start icon on the toolbar to go to start.done gives Error 404
[SONGKONG-1943] - Uninitialized Logging Issue
SongKong 6.7.1 released on 11th December 2019
Improvement
[SONGKONG-1928] - Convert existing multivalue ARTIST field to single value and copy multivalue to ARTISTS
[SONGKONG-1935] - Artist Matcher: If no match and all trackartists on album but no album artist set album to Various Artists
Bug
SongKong 6.7 released on 26th November 2019
Improvement
Bug
SongKong 6.6.2 released on 8th November 2019
Improvement Bug SongKong 6.6.1 released on 4th November 2019 Bug SongKong 6.6 Red released on 23rd October 2019 Improvement Bug SongKong 6.5.1 Doolittle released on 7th October 2019 Bug SongKong 6.5 Doolittle released on 4th October 2019 Improvement Bug SongKong 6.4 Treasure released on 6th September 2019 Improvement Bug SongKong 6.3 Psychocandy released on 21th July 2019 Improvement Bug SongKong 6.2 Hunkpapa released on 20th June 2019 Improvement Bug News SongKong 6.1 Elephant released on 21st May 2019 Improvement Bug SongKong 6.0 Fumes released on 29th March 2019 Improvement Bug SongKong 5.15 Crocodiles released on 5th March 2019 Improvement Bug SongKong 5.14 Sister released on 14th January 2019 Improvement Bug SongKong 5.13 Gattaca released on 2nd November 2018 Improvement Bug SongKong 5.12 Dandelions released on 2nd November 2018 Improvement Bug SongKong 5.11 released on 8th October 2018 Improvement Bug SongKong 5.10 released on 25th September 2018 Improvement Bug SongKong 5.9 released on 11th September 2018 Improvement Bug SongKong 5.8 released on 14th August 2018 Bug SongKong 5.7 released on 9th August 2018 Improvement Bug SongKong 5.6 released on 26th June 2018 Improvement SongKong 5.5 released on 19th June 2018 Bug SongKong 5.4 released on 7th June 2018 Improvement Bug SongKong 5.3 released on 26th April 2018 Improvement Bug SongKong 5.2 released on 18th April 2018 Improvement Bug SongKong 5.1 released on 16th February 2018 Bug SongKong 5.0 released on 14th February 2018 Improvement Bug SongKong 4.13 released on 15th November 2017 Improvement Bug SongKong 4.12 released on 25th September 2017 Bug SongKong 4.11 released on 17th September 2017 Improvement Bug SongKong 4.10.1 released on 3rd August 2017 Improvement Bug SongKong 4.10 released on 19th July 2017 Improvement Bug SongKong 4.9.1 released on 26th June 2017 Bug SongKong 4.9 released on 19th June 2017 Improvement Bug SongKong 4.8 released on 3rd May 2017 Improvement Bug SongKong for Melco 4.7 released on 24th March 2017 Improvement Bug SongKong 4.7 released on 24th March 2017 Improvement Bug SongKong 4.6 for Melco released on 24th February 2017
We are pleased to announce a partnership between SongKong and Melco. Melco are recognised worldwide for their high quality music library systems made with the highest quality audio specific components that allow music to be stored in digital format and then streamed to a music player or connected directly to a DAC (Digital Audio Converter) for connection to a conventional hi-fi system.
This was announced at the Bristol Sound & Vision show, click here to view the press release.
Alan Ainslie from Melco, recognising the difficulty their customers had with poor quality metadata from previously ripped and downloaded songs, came to SongKong for help with devising a simple solution for customers. In partnership with Melco we have already made many improvements for all SongKong customers, especially those with large collections including Classical and Jazz.
Additionally with SongKong for Melco we have solved an issue for customers with collection of Naim wav rips. The popular Naim Uniti defaults to ripping to Wav format, it then looks up metadata from AllMusicGuide and Cddb. But this metadata is stored in a file called amginfo.xml or cddb.txt within the same folder as the wav rips for the album rather than stored within the Wav files themselves. This is fine as long as you only play them via Naim but if you copied the files anywhere else no metadata would show up for the Wav files, regardless of if the amginfo.xml or cddb.txt files were copied as well since only Naim Uniti could parse them.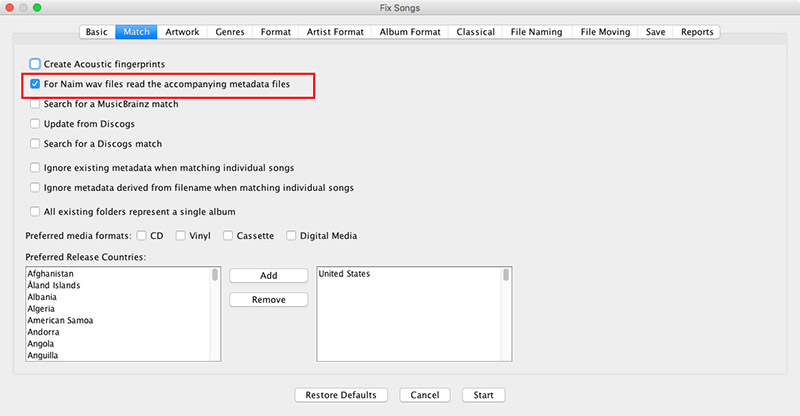 When the above option is enabled if you have any Naim wav folders that contain the Wavs and the Amginfo.xml/cddb.txt file then the metadata can now be embedded into the Wav files themselves, this can now be read and used by most applications and players such as Minim Server and Foobar2000. Of course you can additionally use SongKongs standard MusicBrainz and Discogs functionality to find additional metadata such as high resolution artwork.
SongKong 4.6 released on 16th February 2017
Improvement
[SONGKONG-506] - Would be nice to have a way to only rename not rematch songs
[SONGKONG-1094] - Add count of songs matched to AcousticBrainz in summary, and progress bar
[SONGKONG-1102] - Lookup AcousticBrainz info directly from acousticbrainz.org
Bug
[SONGKONG-1126] - SongKong not updating very high-res artwork
[SONGKONG-1127] - MusicBrainz to Discogs linking not working correctly
[SONGKONG-1130] - 0 songs checked against MusicBrainz and Discogs before task cancelled by SongKong because of unreported error
SongKong 4.5 released on 17th January 2017
Improvement
Bug
SongKong 4.4 released on 19th December 2016
Bug
[SONGKONG-1096] - Database errors because unable to get connection
SongKong 4.3 released on 15th December 2016
Improvement
Bug
[SONGKONG-1082] - MusicBrainzClassicalChecker().isClassical() getting called too often
[SONGKONG-1085] - Inconsistency with Artist/Artists and IncludeFeaturedArtists option
[SONGKONG-1088] - Rerun FixSongs adds/changes some Year fields, why not added first time
SongKong 4.2 released on 18th October 2016
Improvement
Bug
[SONGKONG-1024] - When run songkong from cmdline log output from jaudiotagger goes to console
[SONGKONG-1052] - When Part derived from MusicBrainz has a leading space character
[SONGKONG-1055] - Discogs match/update ignoring isClassical Never Modify/Modify if Empty option
SongKong 4.1 released on 3rd October 2016
Improvement
Bug
SongKong 4.0 released on 9th September 2016
Improvement
Bug
SongKong 3.24 released on 10th March 2016
Bug
[SONGKONG-968] - Can't obtain static newInstance method for class com.sun.jna.Structure
[SONGKONG-970] - Have local copy of google fonts to speed up report display
[SONGKONG-975] - Ensure matching respects max song group/notracks limits
Improvement
SongKong 3.23 released on 13th February 2016
Bug
SongKong 3.22 released on 12th February 2016
Bug
[SONGKONG-929] - NullPointerException in UndoChanges then Adderror not handling no message
[SONGKONG-940] - Be better at identifying multi disc releases not under a common folder
[SONGKONG-945] - Error when Rename File Only is enabled and subfolder part of filename is empty
Improvement
SongKong 3.21 released on 14th December 2015
This release add support for various Mood attributes for Pro users, plus for everyone we some new options for renaming files and saving artwork.
Bug
SongKong 3.20 released on 5th November 2015
This release fixes updating of iTunes for Wav and Aiff issues plus some matching fixes and improvements
Bug
[SONGKONG-915] - Get Acoustid recordings not accounting for when only recording returned has no title
[SONGKONG-916] - Error with calculateReleaseScoreForSingleSong()
[SONGKONG-917] - Aif and Wav files not being added to iTunes if iTunes update enabled
Improvement
[SONGKONG-914] - Make artist and track search fuzzy match tracks
[SONGKONG-918] - Relax isGoodArtistAndTitleMatch for silent tracks
SongKong 3.19 released on 26th October 2015
This release fixes a couple of issues introduced in the last release
Bug
[SONGKONG-910] - REGRESSION:Unable to loads files with multiple dots such as test...mp3
[SONGKONG-911] - Issue reading ID3 chunks within Wav and ID3 if they are odd sized and not last
SongKong 3.18 released on 13th October 2015
This new release now offers full support for Aiff and Wav format files, plus a few smaller improvements and fixes
Improvement
Bug
[SONGKONG-901] - Incorrect use of getAbsolutePath() on moved files during Delete Duplicates.
[SONGKONG-903] - DeleteDuplicates NullPointerException in getKeywordListIterator
[SONGKONG-908] - SingleSong matcher needs to respect isMatchAllSongsOnReleaseOnly sometimes
SongKong 3.16 released on 18th June 2015
iTunes integration
This release fixes two issues with SongKongs iTunes integration:
SONGKONG-863:OSX:Error when unable to find track in iTunes
SONGKONG-864:OSX:ITunes integration can cause Songs Done to be under-reported
Error handling
Usually SongKong can be run on any number of files without memory issues, but badly behaved images can cause a memory issue. SongKong was not recovering from this error and if the memory issue did reoccur when loading songs SongKong was not reporting the error correctly, this is now resolved.
SONGKONG-868:If memory error occurs on file load with cover image doesnt recover properly
Report Improvements
We have had added various report improvements
SONGKONG-494:Add an option to not show reports
We have added a new option for reports. This option can be used to prevent the report being opened automatically, the report is still created and can be opened immediately after processing from the summary panel or from the Reports menu.
SONGKONG-869:Progress Dialog should close automatically once finished processing
Once SongKong has finished a task such as Fix Songs it now automatically closes the progress dialog, previously it had to be manually dismissed.
SONGKONG-375:If user has disabled Discogs searching AND Matching dont show Unmatched Discogs section
The dialogs have been tidied up so that they do not show Discogs counters when the customer is not trying to match songs to Discogs.
SONGKONG-863:OSX:Error when unable to find track in iTunes
SONGKONG-864:OSX:ITunes integration can cause Songs Done to be under-reported
SongKong 3.15 released on 4th June 2015
Firstly this includes modifications required to work with cover art newly added to Discogs in the last two months, this is required due to a change in how Discogs provides their cover art data.
Then we have fixed a problem matching song title and track total when matching multi-disc Discogs releases.
We recommend you update to this latest version of SongKong and then run Fix Songs over your collection with the For Songs Already Matched to MusicBrainz releases to Update Metadata and Filename Only. This will fix any data that may have been incorrectly added in earlier releases and will also updated your previously matched songs the very latest data added to MusicBrainz and Discogs.
SongKong 3.14 released on 6th March 2015
If customers have all their files in one folder and that folder is on the network then SongKong can timeout before loading all files.
A few months ago the Database Unreturned Connection Timeout option was set to 30 minutes to protect against against hibernate connection being deadlocked and therefore unable to return, it was part of a two prong defence against processes getting stuck. The other was adding a limit of 30 minutes for processing of any grouping- the original implementation of this was a little buggy but is now working correctly so we are safe to remove the Database Unreturned Connection Timeout and this fixes the issue.

When deciding between similar MusicBrainz releases we take the release date into account, and score earlier release dates higher. At one point the server only stored a single release date (and country) for a release but can now store multiple release date/country combinations (known as Release Events) but the client code was not updated to use release events, now fixed.

If Acoustid generates the above fingerprint for a song it means it could not actually generate a valid fingerprint so we should not try and lookup and Acoustid Id for it.
We have to be stricter when matching Discogs releases than MusicBrainz because we can not use AcoustId as a crosscheck, so the matching threshold has been increased.

Both these issues are to do with the displays of dates, I took the opportunity to familiarize myself with the new Java 8 Date/Time api to fix this.
SongKong 3.13 released on 16th February 2015
Regressions fixed
REGRESSION:When reusing existing Discogs Releases as candidates not checking trackcount
When reusing existing Discogs Releases as candidates SongKong was not checking trackcount properly. The check to see if the there are more tracks than the number of songs to match which is not allowed if you have Only allow match if all tracks on album were matched is incorrect. We tried to fix this in SongKong 3.12 but made a mistake but it is now fixed. SONGKONG-838

If MetadataMatcher fails if it needlessly does Match Recording Only again
If song matching by metadata fails to find a match it needlessy does Match Recording Only, and there is no point because this would have already been done during the Match by Folder stage, worse than that metadata matching can be called a number of times for the same group of songs. So wasted processing that can cause timeouts if extending the length of matching for a grouping over the timelimit and use additional amounts of memory. SONGKONG-843

SongKong 3.12 released on 10th February 2015
Regressions fixed
In 3.11 we made a change so that if your songs already had a MusicBrainz or Discogs Id we considered that release as a release candidate even if it wasn't found as a potential match in the normal way. But we didn't get this quite right, the problem was that if you have Only allow match if all tracks on album were matched enabled then SongKong should reject any release that has more tracks that the song grouping you are trying to match to it. But a release found by existing id was circumventing this check. Now fixed by:

SONGKONG-837
SONGKONG-838

SongKong always writing genres as number if in Standard genre list
Mp3s make use of a standard genre list and if your genre is in the list SongKong actually stores the associated number rather than the text, for example it would store 17 instead of Rock (if your genre is not in the list it stores the text). However some applications such as iTunes don't understand the numbers properly if Save:Save songs so they work best with iTunes is enabled SongKong should always writes genres as text even if they are in the known list. This was not working but it now

SONGKONG-836

SongKong not loading some Mp3s with bad metadata
We have also improved how SongKong loads mp3s so it can cope with songs with corrupted metadata.
SONGKONG-839
SongKong should only add Bpm for songs that do not have it In the last release we added support for adding the Bpm for songs (Pro version only) but now modified it so that it only adds Bpm if the song does not already have a Bpm.
SONGKONG-842

Full list of fixes in the Issue Tracker
SongKong 3.11 released on 4th February 2015
Improve Recognition of Multi-Folder Albums
If you have Only Allow match if All Songs Matched and Only Allow Match if all tracks on album matched the problem is that although SongKong considers the two sub folders as being part of one release it does an additional check based on name to confirm this, and that check is case-sensitive so SongKong found cd but doesn't match CD so it decides that each sub-folder represents a separate album then it tries to match each folder in turn and of course cannot find an album that can be completely matched by just one of the folders.
Always consider existing MusicBrainz Release Id when rematching
When rematching SongKong ignored existing MusicBrainz Ids and matched purely based on the AcoustIds and user metadata. However we should always consider an existing MusicBrainz Release Id when rematching. This protects against SongKong not finding good matches when it should do and also provides better parity with Jaikoz. The existing MusicbrainzReleaseId will only be used if it is the best scoring match of the release candidates.
Always consider existing Discogs Release url when rematching
And the same logic applies for Discogs matches as well.
Always do AcoustId match when metadata match was for a Various Artist release
Assume you have a 2 CD Various Artist release with both discs in subfolders and you have Only Match if all Songs in Grouping Match enabled but Only allow match if all tracks in album were matched is disabled.

Now if initially SongKong fails to group the two folders as one grouping it will do a metadata search and because that includes a search on artist:Various Artist plus a fuzzy search on title plus track count. the Track count will be wrong for our release because track count is based on one cd only. Because the search is for a Various Artist and fuzzy release the search probably will find a number of releases matching this an the invalid track count. If we find lots of potential matches then an AcoustId match would not be done (for performance reasons) so we end up not finding and scoring against the correct release and hence no match.

Now if Only allow match if all tracks in album were matched is disabled.and we did a Various Artist search we always ensure we do an AcoustId match regardless of how many metadata matches we got.

The full list of improvements can be found here
SongKong 3.10 released on 2nd February 2015
This release fixes a number of bugs, fixes one regression and adds one improvement:
OSX:SongKong has encountered an error trying to build model of iTunes library
If SongKong is configured to update iTunes then SongKong has to create a model of the iTunes library on start up so that it knows what songs are already under iTunes control. On OSX SongKong has to use Applescript to communicate with iTunes, and the iTunes library is large it can take a while to rebuild it, but the default timeout used by Applescript is not always large enough for large iTunes library. The timeout has been increased in this release.
OSX:Not always showing all options on first tab on small screen
On my own Mac with 17" monitor with native resolution at 1920 x1200 resolution I had never seen this error but reducing the display to 1280 x 800 and the first tab of the Fix Songs dialog no longer has room to show all the options. This kind of resolution could be used by smaller laptops such as a 13" screen version, and unfortunately SongKong gives no visual indication that there are any other options. The problem persisted on Windows as well, but a Windows is able to fit in more on a smaller resolution than OSX. The problem is now fixed, a vertical scrollbar is displayed as neccessary.
Treat track names like 'Track 1' as blank
SongKong uses existing metadata to match songs and to validate acoustid matches, but sometimes existing metadata should not be used. The most common culprit is track names of the form Track 1, Track 2, Track 3 ectera , whilst these can be valid track names they normally are not so now if existing metadata contains such names we just treat as if the song currently has no title.
Regression:Discogs matching Thread prematurely ending
This regression was introduced in SongKong 3.9 by the change to match multi-folders groupings to Discogs after a failed MusicBrainz match before attempting matching sub folders. Unfortunately this change could cause Discogs matching to stop prematurely, it is now fixed in this new release.
Full list of fixes can be found here
SongKong 3.9 released on 28th January 2015
Better Discogs Artwork Coverage
Discogs has a concept of primary artwork and secondary artwork, primary artwork contains the front cover art and secondary artwork was used for other images such as the back cover or sleeve inserts. It used to be that an editor could specify whether an image was primary or secondary. But now when editing the first image is always considered the primary image and all other images are secondary images, this order can be modified by dragging and dropping the images in Discogs to make a different image the primary image
However the Discogs data dumps contain many releases that only contain secondary images and no primary images. The precise reason for this is still unclear but whereas SongKong previously ignored secondary images meaning no Discogs images was found for these releases SongKong 3.9 now makes use of the secondary image if a release contains no primary image but does contain secondary images.
For you this means even better image coverage
Improved Matching
For multi disc releases grouped one folder per disc SongKong could incorrectly match just one of the folders to a MusicBrainz release and not the others if MusicBrainz only contained a single disc version, even if the complete release was available in Discogs. Now when matching multi-folder groupings if it fails to match the folders to MusicBrainz SongKong attempts Discogs match before breaking into subfolders and matching each folder to MusicBrainz only if no Discogs match is found.
If you have iTunes configured to make a copy of all songs added to it (the default) then any songs with no metadata are added to the Unknown Artist/Unknown Album folder. SongKong now realizes that this folder does not represent an actual album and therefore should be treated as one.
A silly assumption crept in somewhere that if all songs are by different artists then it must be a Various Artists compilation but this is often not true such as in this album - and this prevented SongKong matching albums when it should have.
Various Fixes
We also have a host of bug fixes across various parts of SongKong, full details at the Issue Tracker
SongKong 3.8 released on 14th January 2015
Installer
We have improvements to the Windows installer, its now a self-extracting archive
Stability
If your database was corrupted you could try and recreate it by using Empty Database but this did not always work and you had to manually recreate the database folder, this is now handled by SongKong.
Matching Improvements
There are some bug fixes and improvements to matching itself. SongKong was not always doing its Acoustid double-check to ensure that songs had not been matched to a song with a title that didn't match the songs Acoustid, this is fixed.
SongKong had an issue when matching fields with a quote in it, this could prevent potential albums being returned, now fixed.
SongKong tries to weed out duplicate songs when matching a folder of songs to an album, but it was incorrectly identifying songs with the same name but actually different track lengths as different songs, such as the two versions of L.O.V.E on this release.
Improved Match Song only to both match more songs, and to be careful when matching songs when you already have a song with a different title.
We also fixed a bug that when renaming files from multidisc releases from a folder per disc to one folder per complete album we were left with folders that should have been deleted.
Report Improvements
The Fix Songs report now comes with extra instructions on how to navigate it, and errors are now timestamped
The full list of fixes in this release can be seen here
SongKong 3.7 released on 4th January 2015
This release improves Classical Release matching plus some other reliability improvements including avoidance of deadlocks
Very Long Song Titles
Classical releases can often have long titles because according to the
MusicBrainz Classical Guidelines
if they are part of a work they should contain the
Work title
in each song title, for example
here
. And Operas should contain each
act
or
scene
as in
here
. This means when matching existing song titles it takes longer because there are more words to match, it is also harder to match because these guidelines don't reflect as accurately what is written on the cover as for non-classical releases.
Very Large Releases
Because many classical composers catalogues are out of copyright it is inexpensive for music publishers to release large box sets of a composers output. One such example is the 100 CD Complete Works Beethoven release. Its actually too large to show reliably in MusicBrainz so instead I show the results of a
search
.Trying to match songs to large releases is invariably more time consuming than smaller releases because there are so many permutations to consider, actually expotentially more.
These issues plus other fixes are listed in the Issue Tracker
SongKong 3.6 released on 17th December 2014
An attempt to solve a problem with occasional deadlocks when matching groups of songs.
SongKong 3.5 released on 12th December 2014
In previous releases the main focus has been on improving the Fix Songs task but in this release we wanted to review other part of the application application, especially Delete Duplicates Songs
Delete Duplicate Songs
First of all we found some bugs in Delete Duplicates that have now been fixed.
The help for Delete Duplicates has been completely rewritten to give more detail and make more sense for non-MusicBrainzers and additional checks and balances have been added to make Delete Duplicates work better in Trial mode.
The we added a new option to
Song is a duplicate if has same
called
Same song (metadata only)
. This is very similar to
Same MusicBrainz song only
for finding duplicate songs without being concerned about albums, but without the need to match the songs to MusicBrainz first (although we would always recommend using the MusicBrainz based options whenever possible)
Help
Help has been edited, including simplification of the terminology such as using
Album
instead of
Release
and
Song
instead of
Recording
. We have added a
Pdf
version accessible from the Help menu for some bedtime reading, but seriously the Pdf version works well if you want a paper copy of the SongKong manual.
Fix Songs
But despite what I say at the start of this post we have made some improvements to FixSongs as well, these include some major performance improvements based on improvements we made in Jaikoz 8.
Full list of improvements and fixes can be seen
here
SongKong 3.4 Released on 16th of November 2014
This release is full of improvements to the matching process.
SongKong now does a much better job of handling multiple albums without metadata in one single folder. Previously if you had Only allow match if all tracks in album were matched enabled it had difficulty matching multiple albums contained within a single folder unless they had some existing metadata. The workaround was to disable the option but this then allowed SongKong to match partial albums, possibly not the desired outcome. Now in this release SongKong can derive metadata from the songs Acoustids and group and match the songs accordingly without having to disable the above option.
Overall SongKong is better at matching albums, before this release it would try and match a grouping completely to one album, if that failed and depending on user preferences it would then match each song one by one. Now before resorting to song by song matching it trys matches partial groups to a release. This means results are split over less albums, and it speeds up the matching process because it is quicker to match a group of songs to a release in one go rather than song by song
There are some super larger releases in MusicBrainz and Discogs, these are usually Box Sets of the complete works of established artists. Matching songs to these larger releases can be time consuming and give the impression that SongKong has stopped working. A number of improvements have been made to prevent SongKong spending too much processing a group of songs, and a Still Alive progress bar has been added to show that SongKong is still working
Full details of all issues fixed in this release can be found here .